NO1. Advantages of Aifeel spa:
1. Spa shell: Aristech acrylics, imported from USA
2. Computer control: Balboa control system, Chinese control system, Gecko system and spanet system are available.
3. Jets: Stainless steel jets, rising dragon jets and CMP jets available
4. Powerful pumps: LX pumps, LX is the biggest pump manufacturer in China,and most of its pumps export to overseas
5. 5.Good insulation : Spray foam with 6~8 layers fiberglass reinforced on the shell,very strong,and insulation inside the skirt
6. Strong struture: Stainless steel structure,while most factory still use wooden structures
7.Advanced equipment: Salt water system;Automatic cleaning system
8. Strict quality test: 12 hour continual test for control system, pumps, leaking; Controller is tested for all functions;Hi-pot test (high voltage test);Earth resistance test;Power test;Whole body test of every spa before packing & loading.
NO2. Specification list:
Specification list

Model name

AF-3115

Size

2000*2000*920mm

Package Size

2280*2170*1020mm

Loading capcity

14pcs/40HQ

Shell material

USA Aristech

Seating capacity

1 lounge+5 seats

Control system

Balboa

Power supply

220-240V/380-400V

Underwater light

1pcs

Pumps

1*LX lP300+1*WTC50 circulation pump

Ozone

1pcs

Jets

24pcs(CMP/LVJ/Rising dragon)

Cabinet

ps

Base

Abs thicken

Transport Package

Film, EPE,Foam, Waterproof bag

Options:

Waterline led lights

20pcs

UV sterilizer

1pcs

Bluetooth muscial system

1 pcs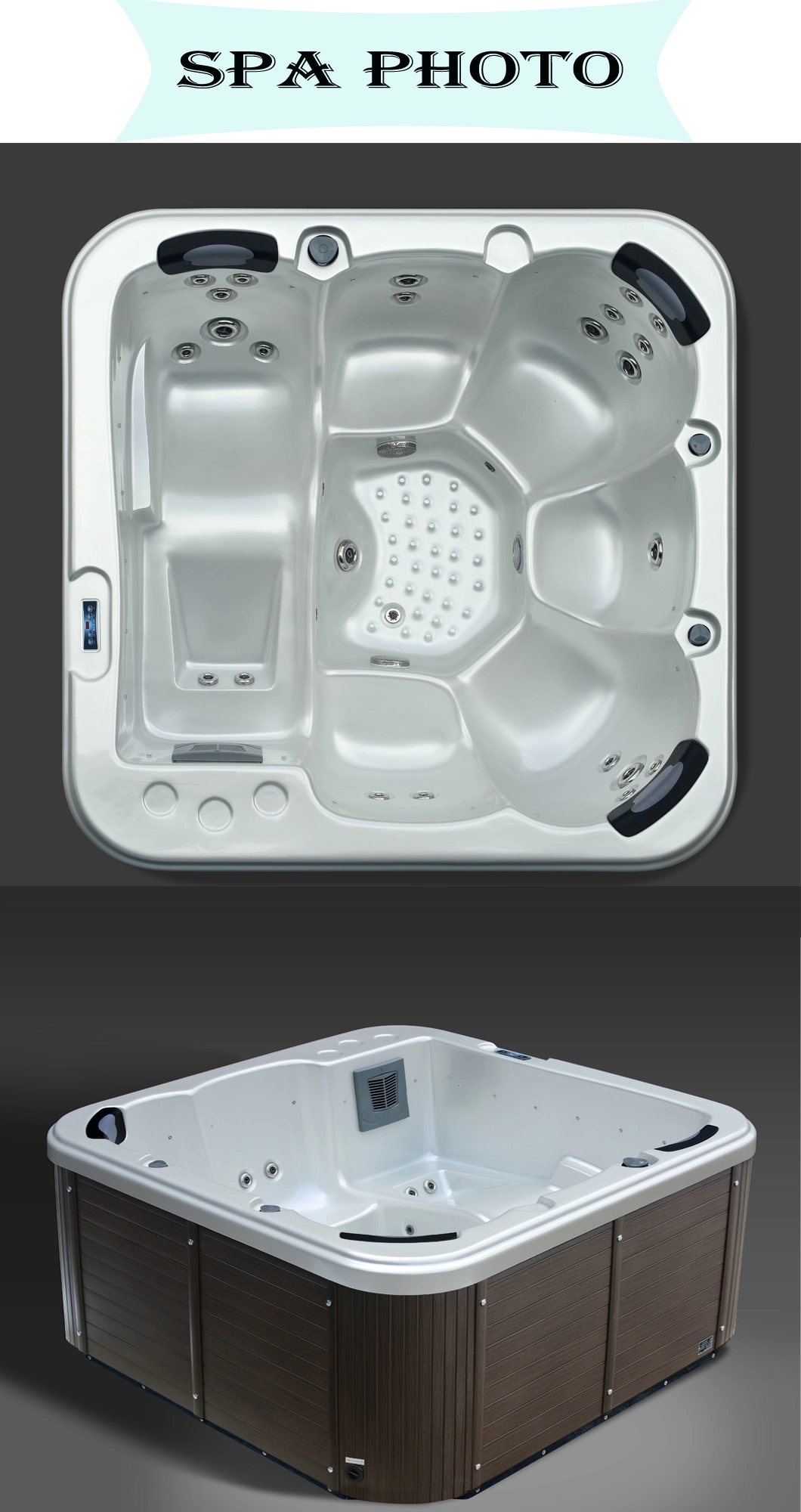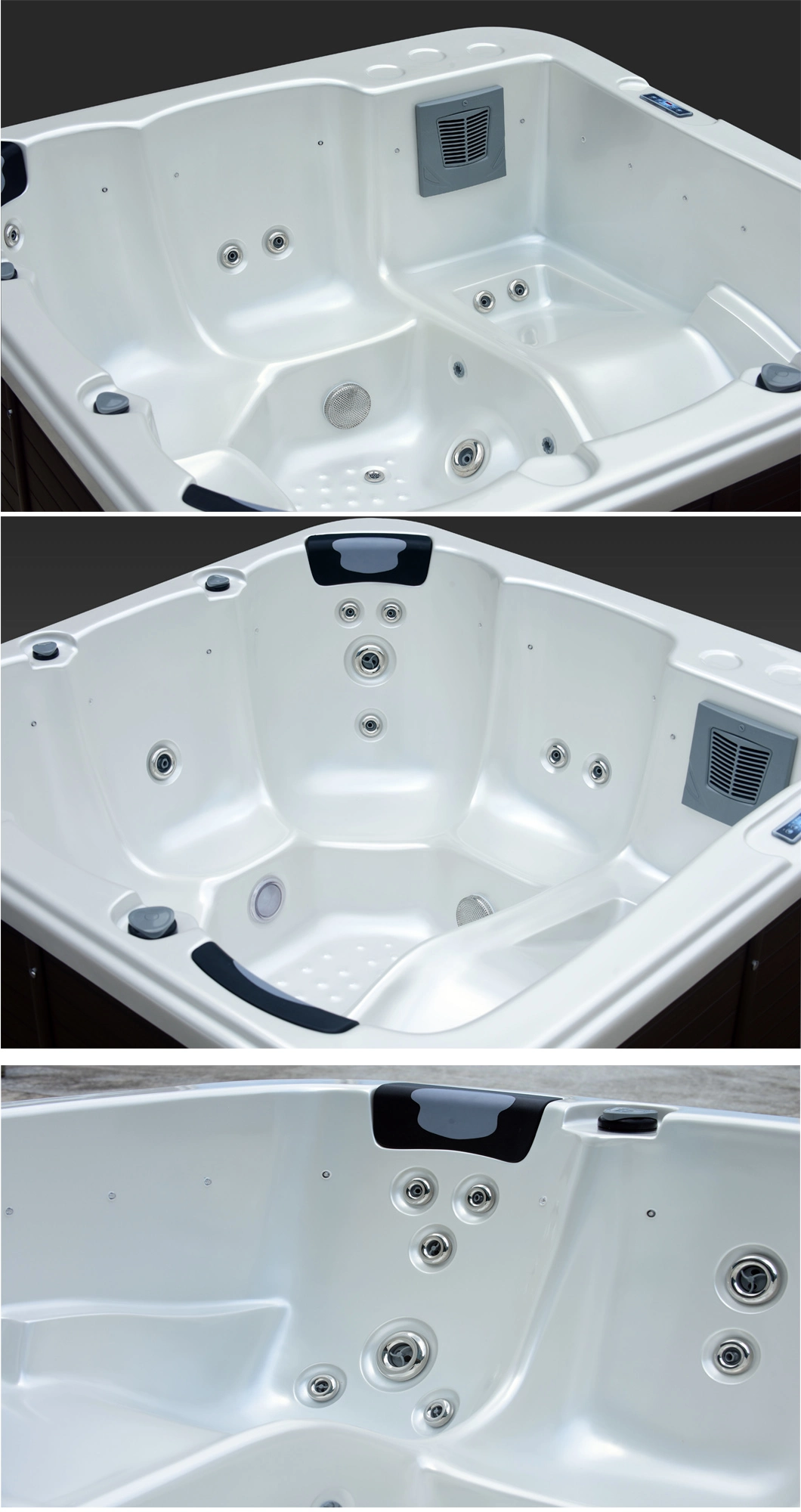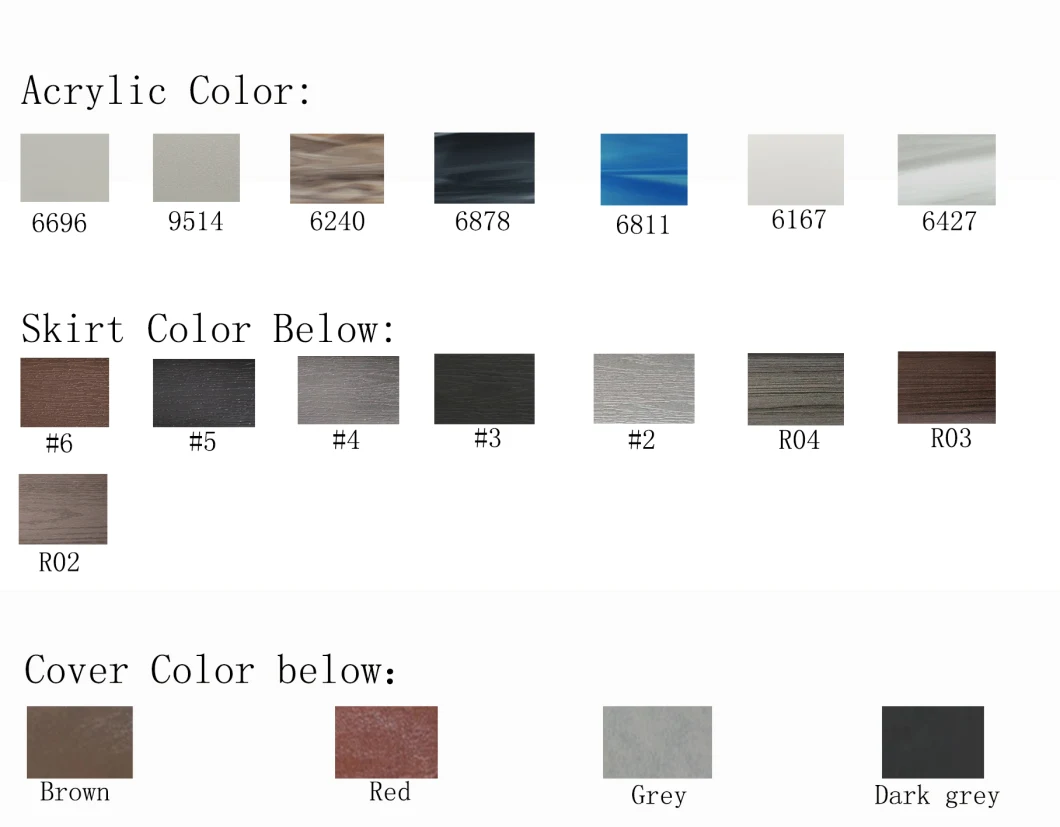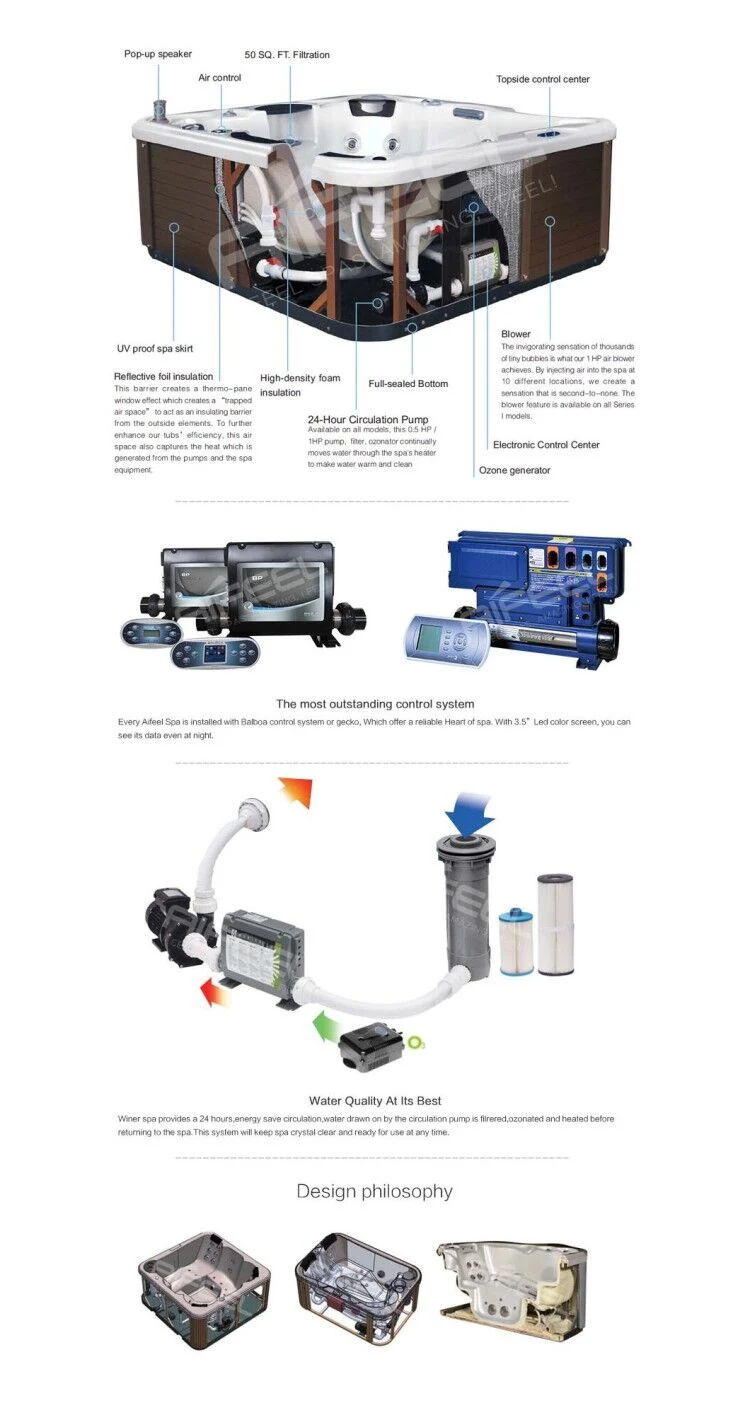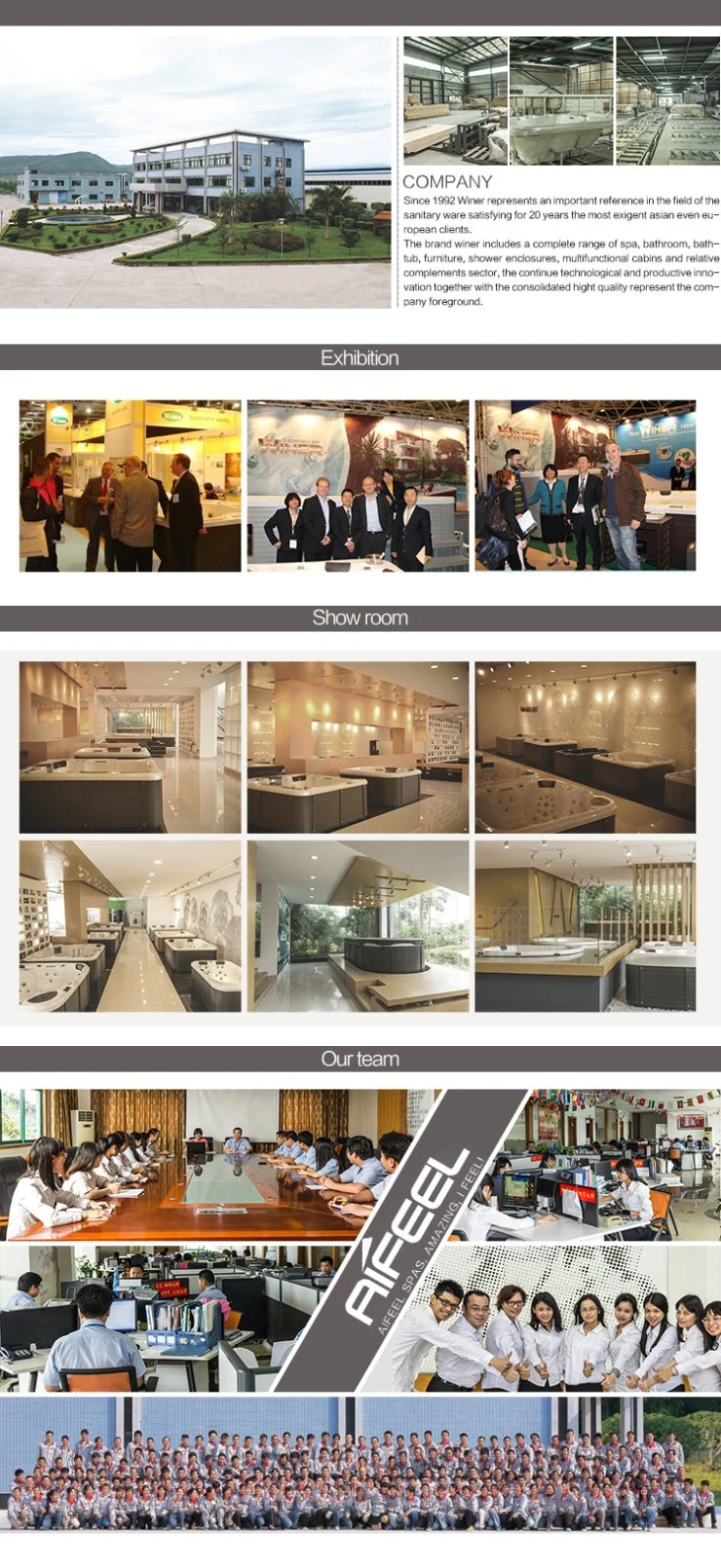 NO3: FAQ
Frequently Asked Questions:

1. What brand you use for the electrical and hydraulical component (pumps, control panel, heating, jets, etc…) ?

The pumps are from LX pumps;Control system has Balboa system,Gecko system and Chinese E-think control system;Our standard control system in the pricelist is Chinese E-think control system,Balboa and Gecko system are options. The heater matched with Chinese control system is LX heater. the heater matched Balboa system is Balboa heater and heater matched Gecko system is Gecko heater; Jets are Rising dragon and LVS jets.

2. What kind of shell and skirt do you use ?

We use Acrylic imported from USA Aristech LLC and strengthen by resin and fiberglass. Our standard skirt and step in the pricelist is finland pine wood skirt&step, the PVC and Cedar skirt&step are options.

3. All the spas has cover?

Yes, all of the spas has cover and the cover included in the pricelist,no need to add money.

4. Do you have some certification for Europe?

Yes, sure. our spas have CE certification for Europe and SAA certification for Australia.

5. How do you manage the warranty issues ?

Our basic warranty process is as following:

1.If the end customer find something wrong,they should take clear pictures and sent us tracking number of this spa.

2.You kindly transfer these to us promptly(somettimes you are very busy,you could let your customer to directly feedback this information to us,but needing your autherized )

3.We will check the problem carefully.

4.if it is our side make something wrong or our things are abnormal

a.we will instruct to correct them to normal working through internet for your customer

b.if it needs spare parts to mend them,we will send them to you promptly(normally ,we could solve all problems untill this step)

c.if they still aren't ok or serious problems,we could consider about the compensation. To cover the service cost or to make a new spa to you.

6. What is your commercial policy (production time, payment, packing, delivery, etc… )

The production time for one 40HQ container is 20-25days.

The payment terms: 30% deposit in advance by T/T,70% balance before shipment.

Our spas are packed in wooden frame and firm and easy to ship.

We can do FOB terms,EXW terms and CIF terms for you. If your order quantity is one 40HQ container, the prices in the pricelist will be FOB prices.

7, How about your products quality?

You can rest assured that our products have excellent quality and superior craftsmanship, you know that our products must be tested in many step before shipment.